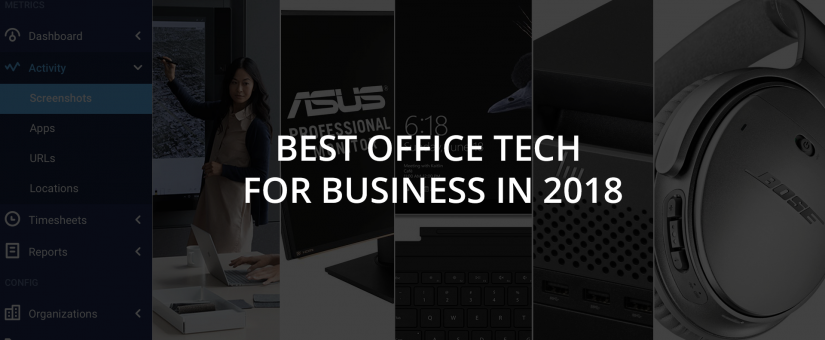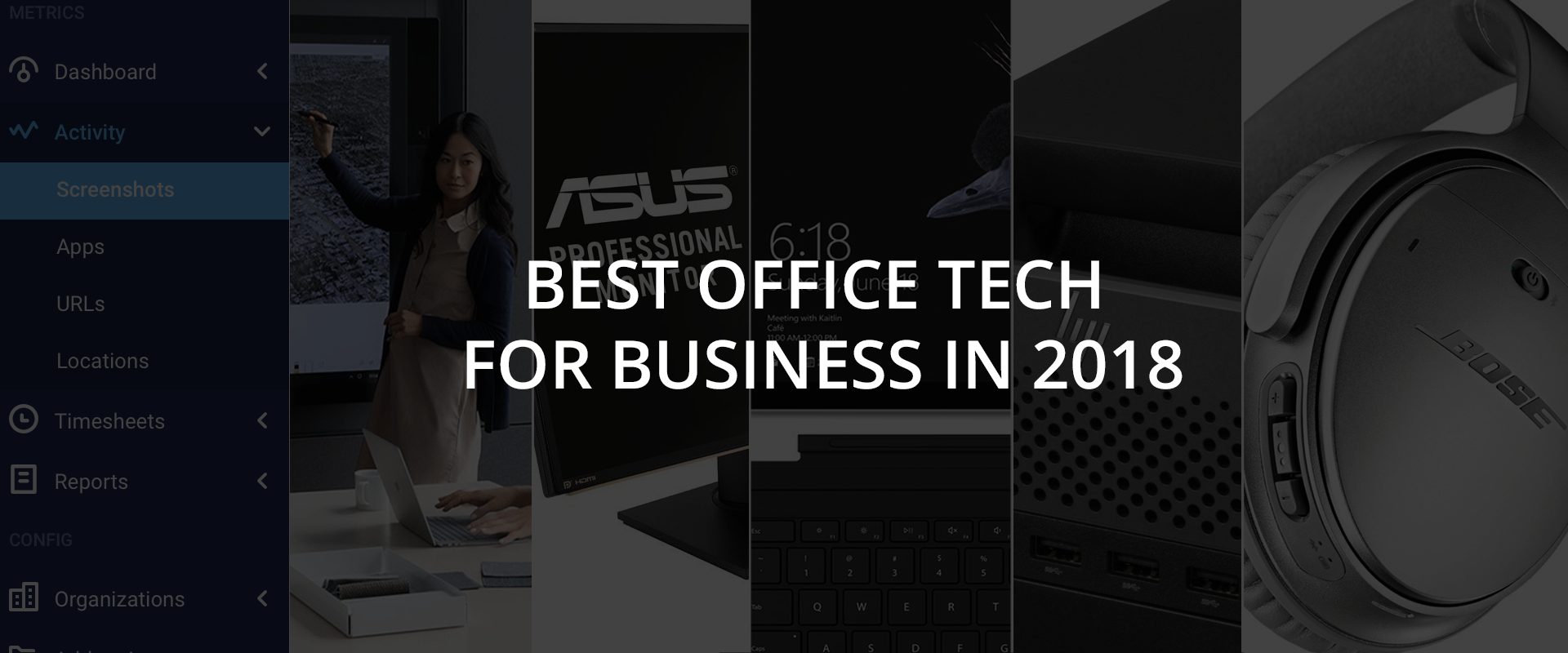 Best office technology for 2018 for your Business.
ASUS, NVIDIA, HP, DELL, Microsoft, Asana, Wacom, and BOSE lead the charge towards productive, user friendly and top end features.
Updated March 24, 2019
ASUS PA32UC 32″ 4K HDR Monitor | Best in 2018
The ASUS Pro Art line refresh is coming back stronger than ever for 2018. The ASUS PA32UC is bursting with modern features including an IPS 4K UHD 3840px x 2160px panel including 10-bit color support and HDR, High Dynamic Range. If you aren't familiar with HDR, it is a color technology that increases the depth of color and vibrance of the display. HDR is now also a setting in Windows 10 and is gaining wide use.
The 32″ ASUS has Display Port 1.2 and a Thunderbolt 3 port to daisy chain 2 monitors. The ASUS PA32UC has 138 ppi, 1000 cd/m² making it almost 3 times as bright as competitors featuring a 99.5% Adobe RGB and 100% sRGB color, DCI-P3 at 95% and Rec. 2020 at 85%. The ASUS is the first monitor built with 3M Quantum Dot Enhancement Film to provide a high color gamut. The ASUS PA32UC 32″ 4K HDR Monitor will be available in Q2-Q3 2018.
Learn more: ASUS PA32UC homepage
NVIDIA Titan V | Best GPU in 2018
NVIDIA has come to market with a new Titan in the name of a "V" or "VOLTA" version. The new Titan V is 12GB of HBM2, in NVIDIA'S first HBM2 card to date, at 1455MHz and 5120 CUDA Cores. One interesting spec on the VOLTA includes a 652.8 GB/s Total Memory Bandwidth which is twice as fast as competitors HBM2 Bandwidth.
The NVIDIA V features 640 Tensor Cores which deliver over 100 Teraflops per second, TFLOPS, of deep learning power, which represents a 5 time increase compared to the prior generation NVIDIA Pascal™. For ports the VOLTA has  3 x DisplayPort, 1 x HDMI, One 6-pin and One 8-pin for power for which the card is rated at 250 Watts TDP with a recommended PSU of 600 watts. VOLTA is OS Certified for Windows 10 64-bit, Linux, FreeBSD x 86 and Solaris.
HP Z4 Workstation | Best Desktop in 2018
The HP Z4 G4 is full size workstation and an upgrade from a traditional desktop. The HP Z series features a strong server level core with ample opportunity to expand.  The HP Z4 Desktop resembles a full size ATX case which will accommodate dual GPUs and multiple hard drives. The HP Z4 has a Xeon W-2123, a quad-core and 8 thread Intel processor, which runs at 3.60 GHz with a 3.9 GHz boost speed, 8 GB DDR4 SDRAM, a 1 TB Hard Drive, and a 10-bit NVIDIA Quadro P2000 5GB GDDR5 GPU for its initial build.
The Xeon W, or Workstation series, are designed for single core applications to run optimally. The NVIDIA Quadro P2000 5GB GDDR5 GPU is a mid level Professional graphics card featuring 1024 CUDA cores, 140Gb/s bandwidth, but it absolutely excels at offering a Display Port 1.4 which has the capability to drive FOUR 4K displays, like the 10-bit ASUS Pro Art above.
The HP Z4 supports up to 256 GB DDR4-2666 ECC SDRAM, 4TB internal storage, dual GPUs, running at 2 PCIe 3×4, 2 M.2 PCIe 3×4, 1 PCIe x8, and 2 PCIe x16. Windows 10 Pro 64-bit is included in rounding out this top Tower pick.
Best Business Laptop 2018
DELL XPS 15 4K Touch Display | Best Laptop in 2018
The DELL XPS 15 Touch is a name you may have seen in our Best of 2017 Laptop rankings. There is a definitive, and we feel decisive, reason that the DELL XPS 15 Touch remains on the top of the 2018 Best Laptop list and that reason is the spec sheet is better than any other laptop. Not to mention, the DELL XPS is wrapped in a sturdy aluminum frame which highlights a glorious 4K InfinityEdge touch display that sets the standard for laptops.
A DELL XPS 15 Touch specked out to our recommendation will give you a 15.6″ 4K touchscreen, 7th Generation Intel Core i7 7700HQ 3.8GHz quad-core processor, 16GB DDR4 2400MHz RAM, NVIDIA GeForce GTX 1050 with 4GB of GDDR5 memory and a fast 1TB PCIe Solid State Drive. Dell states battery life is up to 19.5 hours per charge, which is better than last years PTsupport XPS 9550 version which lasts up to 15 hours. Dell also offers an excellent dock for the XPS to support 3 Full HD Monitors or up to two 4K monitors via HDMI 1.4, 2 USB 3.0 with PowerShare, and one Thunderbolt™ 3 with 2 lanes of PCI Express Gen 3.
Include in your build our preferred choice of Windows 10 Pro and you will have a laptop that will work in all respects like a desktop replacement with the gesture convenience of a tablet. Awards have been earned from PCMag.com for Editors' Choice, Digital Trends Best Laptop, and Laptop Magazine Editors' Choice.
Microsoft Surface Pro | Best Tablet in 2018
Our philosophy about the tablet and its intended use has changed. Times used to be that the tablet was relegated to mundane tasks unto itself. The launch of the Microsoft Surface has created a new opportunity to offer a laptop in a tablet form thereby creating a new way to work. Detach the keyboard and take digital notes at your meeting with the Surface Pen. Or, use the tablet as a drawing machine in conjunction with a full desktop setup for its capability to produce hand drawn simple sketches to finely detailed art with the use of the Surface Pen and Surface Dial. Now, you have a machine offering variety of operation while being capable of handling the demanding workload.
The Praxis Technologies recommended build includes a 7th Generation Intel Core i7 Processor, a 256 GB SSD, 8 GB RAM, and the upgraded Intel Iris Plus Graphics 640 GPU with a 48 @ 300MHz – 1050MHz boost speed. The Display on the included Surface is excellent and we think you will find it the best feature, which, is a 12.3″ PixelSense Display with a resolution of 2736px x 1824px for an eye catching 267 PPI. The Surface Pro display features a 10 point multi-touch for ease of use.
Best Team Management Software in 2018
Asana | Best Team Management Software in 2018
Asana offers the ability to map out each step of a project and to organize the details of your work all in one place by adding task tracking, calendar events, and project info. Asana gives you and your team everything you need to stay in sync, hit deadlines, and launch with data tracking from start to finish. Asana is an easy way for team leaders to help their employees meet goals.
Asana integrates with cloud services like OneDrive, GoogleDrive, and Dropbox as well as Slack, Microsoft teams, and Mailchimp with the ability to also track Github code changes. During and after the project share info with the right people and make teams and projects private to create a space for secure data.
Asana helps your team organization, helps you understand the challenges present, and how your team can succeed, while recording all the relevant information.
Learn more: Asana homepage
Best Team Writing Surface in 2018
Microsoft Surface Hub for business | Best Team Writing Surface in 2018
The new Microsoft Surface Hub is an excellent team building tool. It offers the ability to create, edit and display content among a group of people who can all make use of its large touch screen display. Microsoft touts the Surface Hub as, "The best way to create and brainstorm with others." We absolutely agree and see a lot of potential for use in Design, Marketing, Education, and Business applications.
These are not just a touchscreen on wheels nor a tv screen one attaches to the wall. The Microsoft Surface Hub is a full fledged computer.  There are two versions of the Surface Hub. First, Microsoft makes a large 4K 84″, 120Hz refresh rate, and 1400:1 contrast ratio including an Intel Core i7 Processor, 8GB of RAM, 128GB SSD and an excellent NVIDIA Quadro K2200 GPU. Next, Microsoft makes a 1080HD 55″, 120Hz refresh rate, and 1300:1 contrast ratio version equipped with an Intel Core i5, 8 GB of RAM and a 128GB SSD leveraging integrated graphics.
Microsoft touts the stellar results of a survey conducted by Forrester Total Economic Impact™, which state a 138% ROI, 20% improved sales, and 15-23 minutes saved per meeting. We feel these kind of results are gold and worth an initial investment.
Best Peripheral Device in 2018
Bamboo Slate | Best Peripheral Device 2018
Wacom has been a name in the art industry for years. Now, Wacom has debuted a line geared toward the Office with the Wacom Bamboo Slate Smartpad. Does your Office have meetings where notes are always necessary? If so, then the Bamboo Slate is the perfect tool to keep your own personalized notes and share those files between all of your devices through the cloud to easily reference later.
With the Bamboo Slate you can now write notes with the included Wacom pen on the notepad paper. When ready, the Bamboo Slate Smartpad converts your writing into digital files. The Wacom Inkspace app lets you organize, edit and share your notes to your iOS or Android Bluetooth® enabled devices.  The Inkspace cloud service will sync your notes in the cloud and access your work from anywhere at anytime. The Bamboo Slate Smartpad comes in two sizes, A4 and A5. You will never be without backup information again.
Best Wireless Headphones in 2018
Bose Quiet Comfort 35 | Best Wireless Headphones in 2018
There is nothing like working in a noisy Office and trying to ignore the constant distractions. We have found Bose has made that task much easier. Bose has long been known for their glorious noise canceling headphones, now in their 3rd Generation with the QuietComfort 35.  PTsupport has our own Bose headphones and can attest to their stellar performance.
Having had their sound and noise canceling technology down pat, Bose has introduced a wireless QC headphone variety featuring a slew of additions to make their product much more user friendly.  The Bose QC35 now includes 20 hours of battery life, bluetooth phone link to take and receive calls, and now for the first time, the QC line includes Google Assistant, which means you can play music, receive texts, manage your daily tasks, and search Google all through the QuietComfort 35 headphones. Being a smart device, the Bose QC 35 headphones include a companion App to allow adjustments to control the levels of noise cancelling and for an easy way to switch between audio inputs.  Praxis Technologies gives the Bose QuietComfort 35 headphones our strongest recommendation for you and your Office.
Purchase at: Bose QuietComfort 35 Series II
Best Office Tech for Business in 2018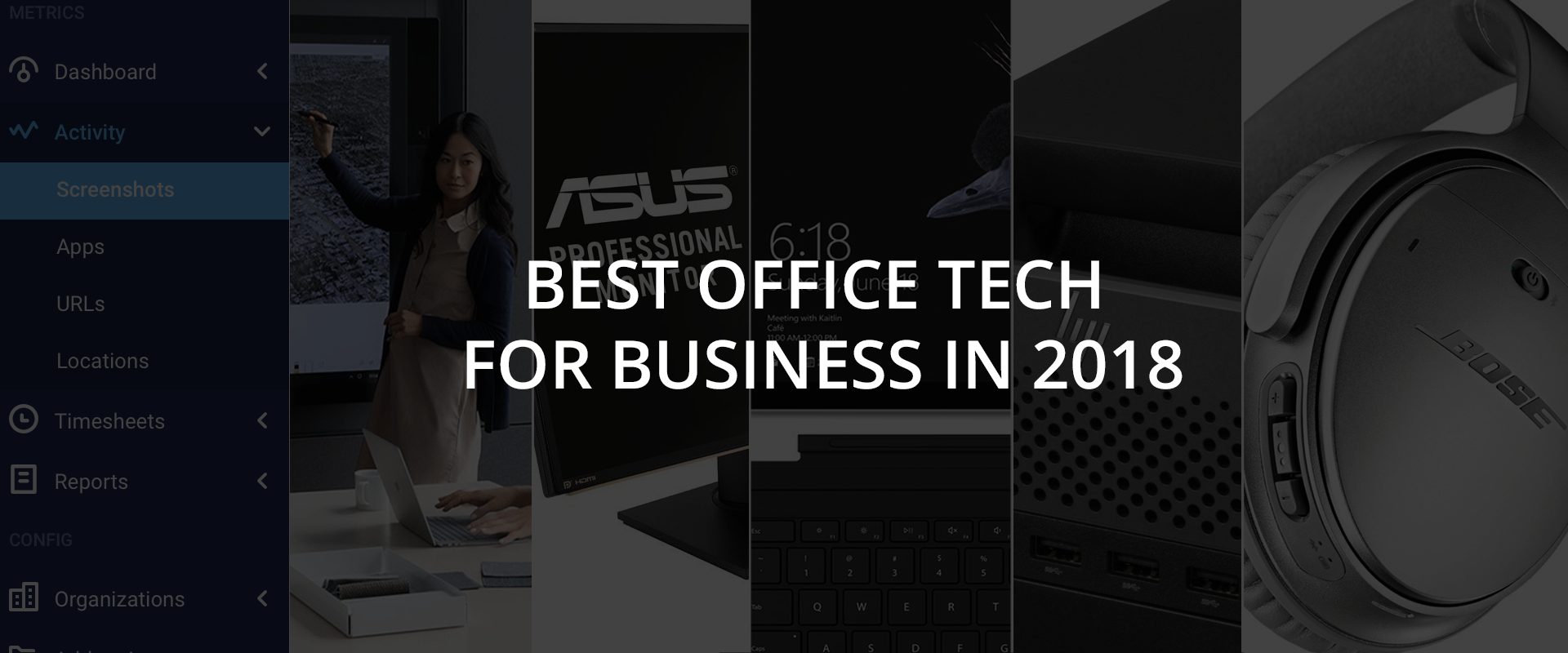 Posted by Praxis Technologies
On 04/02/2018