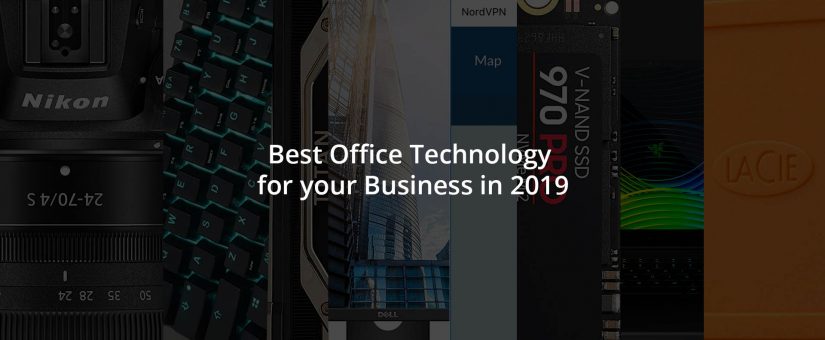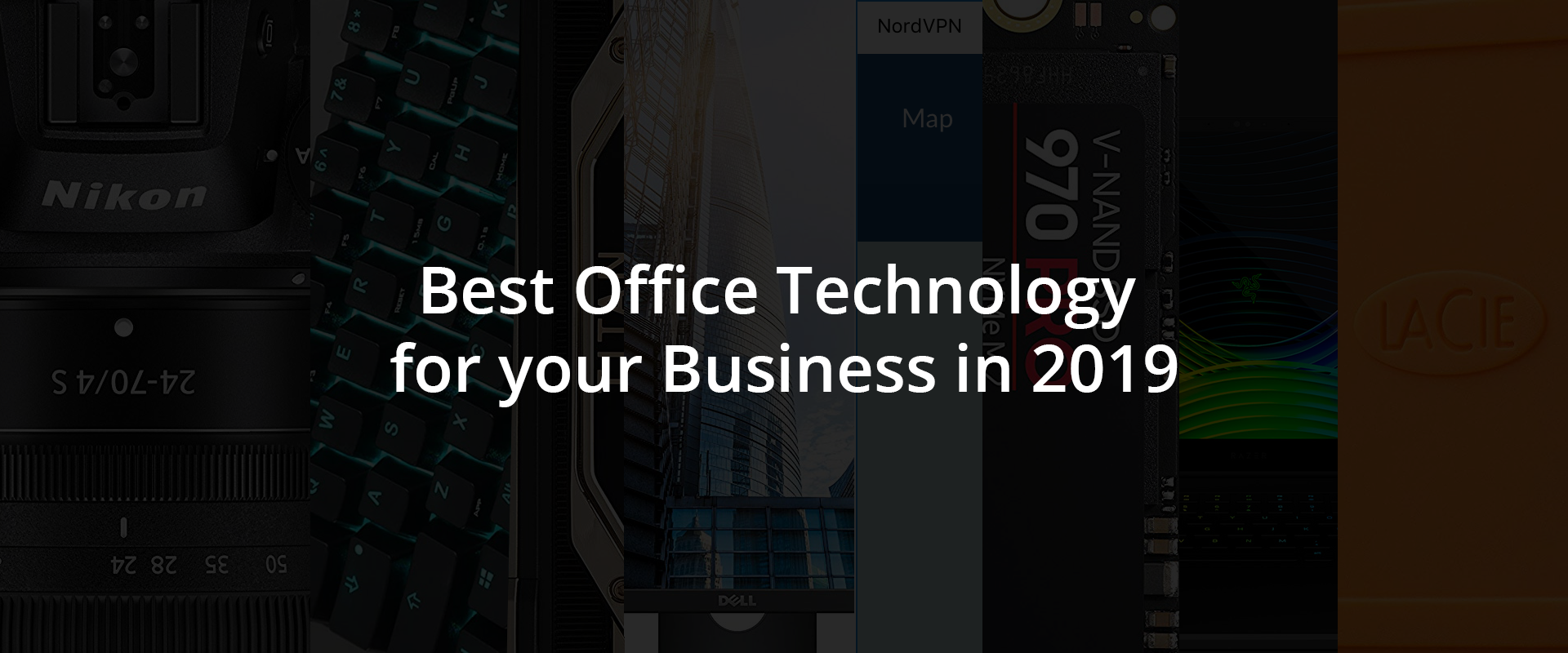 A Praxis Technologies curated list of the Best Office Technology for your Business for 2019.
We have composed a list of best in class tech devices for 2019 with premium products that will expedite your workflow and ensure system availability and security. Our list recognizes value for the dollar while balancing the value added by high end offerings. Our rankings are based on a Praxis Technologies tested item or brand. We know what it takes to make an impeccable business class product as that is what we demand at our own office.
Best Portable Laptop for Business for 2019 | Ultralight Notebook Category
Apple MacBook Air | Intel i5 up to 3.6GH, 16GB Ram, 1TB SSD & Intel 617 GPU
Apple MacBook Air sets the modern standard for portability in notebook size laptops. For 2019, we think you will not find a better option in terms of productivity with a small form factor. The newly redesigned 2019 MacBook Air is 13.3″ and 2.75 lbs. It offers a premium IPS Retina Display at a 2560-by-1600 resolution, which is a highlight of the laptop. Upgrades are available to give this ultra portable a performance boost including up to a Dual Core Intel i5 running at boosts of up to 3.6GHz, 2133MHz 16GB of DDR3 RAM, 1TB PCI-e based SSD storage. All versions include a Intel UHD 617 for graphics which is compatabile with Direct X 12 and 64 bit. The laptop boasts an average of 12 hours of battery power for traditional work and up to 30 hours standby per total charge. If you prefer a Windows OS, we recommend a software called Parallels Desktop which will allow you to install 2 Operating Systems, Apple OS and a 2nd for Windows. Switching back and forth between Windows and Apple OS is then as easy as clicking an icon on your Dock. The MacBook Air can power up to 2 External Displays at 4096 x 2304 resolution and up to 60Hz through USB-C Thunderbolt 3.
Best Laptop for Business for 2019 | Desktop Replacement Category
Razer Blade 15 | 4K OLED Touchscreen | Intel i7 6 Core | RTX 2080 | 16GB | 512 SSD
We like to have you prepared for what the world will demand of you so we found for you the spec champion on the market for 2019, the Razer Blade 15. Picture this, you are on the road, you have a deadline for completing the largest excel sheet you ever have created and you have to edit an accompanying video to post on social media. Granted this is a bit extreme however, when you are travelling, its best to go with the most advanced tools you can reasonably bring with you to assist you in your work. So, in this vein, we hope you understand our emphatic appreciation for Razer, who has launched the new Razer Blade 15 for 2019. We know, you think of Razer and you think of gaming. However, these same parts are also brilliant for work. The Razer Blade 15 has a class leading, and protective, all aluminum chassis which in total weighs in at 4.83 lbs. As nice as the outside of the Blade is, the frame holds one of the most beautiful OLED HDR400 4K Touchscreen 60hz displays you will find. To also top the spec chart the Razer Blade 15 includes an Intel® Core™ i7 9750H with 6 Cores running at 2.6GHz, and a boost clock of 4.5GHz, with 16GB Dual-Channel DDR4 2667MHz RAM. For Graphics you will find a best in class NVIDIA® GeForce RTX™ 2080 with 8GB GDDR6 VRAM which will make editing that video and finishing the Excel sheet a breeze. The laptop includes 3 USB 3.2 and a Thunderbolt™ 3 or USB-C port. If you prefer, you can also select a 1920 x 1080 Full HD display with either a 144Hz or 240Hz refresh rate. Our recommended build of the Razer Blade 15 will have you well prepared to tackle any and all work anywhere, anytime.
Best Workstation for 2019 | Custom Desktop with the best internal options for Creatives and Research capability
Silverdraft Supercomputing | Demon and Devil Desktops
Silverdraft Supercomputing is a class leader and has come to market producing their highest spec workstations to date. Silverdraft, founded in 2009, has studied the market and found a niche filling the need for creatives and technical departments and their requests for high end workstations outfitted with the newest processors and GPU's offered in multiple desktop and server rack variants.
Silverdraft offers two lines built for creative departments. Their Demon line offers Intel Processor Cores of 18 to 56, 128 GB of RAM and can include up to 4 GPU's in a EATX build. The Demon line is excellent for VR, 3D modeling, Animation, Simulation, and has available Autodesk configurations.
The Silverdraft Devil line is the premier workstation on the market today. The Devil is built in a server style chassis with units ranging from 8U up to a full size 42U server cabinet. The Devil line is built to maximize CPU, GPU and a hybrid of both featuring unparalleled compute speed and processing capability.
Silverdraft also offers the Devils Advocate which is a powerful option for rendering and computational processing capacity in a single node 2U form factor.
We are confident in saying that Silverdraft will build you not only the best workstation on the market, but one optimized for your workflow.
"Your mind has to believe it," Gile says. "In this virtual environment, you're tricking your brain that it is real. Anything in this virtual world that inhibits tricking your brain ruins the experience. You need to have a certain number of frames per second, so speed is essential." To make sure our supercomputer Devil servers and Demon workstations are literally up to speed, we rely on Micron Storage and Memory. "High performance and low latency are critical for overall system performance as well as the experience in VR." Although the viewer may not notice a dropped frame, the brain does, and motion sickness can result. Collaborating with Micron USAand what they've enabled our architects to do, it's incredible," Gile says. "I think it's number one." #silverdraft #supercomputing #technology #tech #innovation #immersiveexperience #VR #virtualreality #rendering #visualization #realtime #solutions #AR #augmentedreality #MR #mixedreality #automotive #AEC #micronmemory #devilserver #demonworkstation #virtualworld

Posted by Silverdraft Supercomputing on Friday, August 23, 2019
Best Display for Business in 2019
DELL P4317Q | 43″ 4K Multi Client Monitor
For 2019, Dell has come to market with a strong entry for your consideration. For someone who regularly has multiple programs open or who has multiple monitors currently, the 43″ 4K Dell P4317Q will provide a much cleaner and more functional solution.
The Dell P4317Q is in "P" series which by their definition means "Productive". To this end, the Dell P4317Q 43″ monitor can split its 4K resolution into 4 1920 x 1080 quadrants. To make things better, these quadrants can also each run off of their own individual video input. So, the Dell P4317Q is like having 4 Full HD displays in one at a scale that makes both your day easier and all office team members jealous. Input options include 2 x HDMI, VGA, DisplayPort, Mini DisplayPort and a USB 3.0 Hub to manage your keyboard and mouse. The Dell is a 4K 3840 x 2160 IPS panel with DisplayPort and Mini DisplayPort running at 60 Hz. 350 cd/m², 1.06 Billon colors and 8ms response time round out the specs for this premium offering from Dell. By the way, did you happen to notice that this Dell monitor is not small and measures in at 43″ which matches about the largest dimension monitors produced to date.
Best Full Frame Mirrorless Camera for 2019
Nikon Z 7 | Mirrorless Camera
Consider us a convert now to the Mirrorless system. Long have we pined that the DSLR would be the elite option and the mainstay for each Brand. It looks like the Mirrorless system is now receiving more investment in research and development with some brands no longer offering DSLRs at all. Therefore we are shifting our recommendation to what we view as the premium product on the market, the Mirrorless Full Frame (FX) 45.7 MP Nikon Z 7.
A Magnesium Alloy Frame, the same as in Nikon DSLRs like the 850 and the D5, houses the new Nikon Z mount which is 17% larger than the Nikon F mount. The Z mount is also the widest internal diameter available on market today. The wider diameter of the Z mount enables class leading low-light performance and faster data transfer between camera and lens. A useful feature of the modern camera is its ability to shoot excellent pictures and video. The Nikon Z 7 is a chart topping full frame option in terms of 45.7 MP for stills as well as a solid option for video at 4K @ 30fps, Full HD 1,080p @ 60 fps, and a class leading 8K time lapse video that will be a handy tool that will produce noticeable content. The Nikon Z 7 is again at at head of the pack with 10-Bit color, N-Log with up to 12 stops of dynamic range, and ISO from 32 to 102,400. 493 AF points cover 90% of the Full Frame Z 7. Storage is through XQD memory cards. Wifi, Bluetooth, and USB-C charging meet modern expectations. Nikon Snapbridge is a helpful tool that pairs your camera with your phone for remote shutter control.
Best VPN for Business for 2019
NordVPN | Ensuring the privacy and security of your personal information
To protect your online privacy we recommend the use of a virtual private network. VPNs encrypt your browser session and they work to secure your traffic so no one can monitor your information and steal its contents. VPNs should be thought of as an absolute necessity when using a public network in a public space. VPNs can also be helpful in private networks to secure ecommerce transactions. So, VPNs will protect your privacy, your identity, and your credit card information.
NordVPN, founded in 2012 by four childhood friends, saw that internet privacy was eroding and that internet access was being impeded. What started small has quickly grown to providing military grade encryption using 5100+ servers to over 12 million clients worldwide. Nord implements AES encryption at 256-bit which meets NSA Top Secret protocols. NordVPN offers a zero log policy so no data is recorded at anytime for any user. To further protect your personal information, NordVPN provides a double VPN encrypted process whereby two separate VPNs process your information in succession which will bypass any Country censorship with the bonus feature of no bandwidth limitations. NordVPN is compatible with Windows, OS X, Linux, Android, and Apple iOS with addons for Chrome and Firefox. Of course, the ease of activating NordVPN is a strong factor in its favor with native apps and one click activation for all OS and smart devices. 24/7 live chat support is available to eliminate technical issues. NordVPN is the premiere VPN on the market and our recommended choice.
Best GPU for Business in 2019
Built on the new Turing™ architecture NVIDIA makes the statement that its TITAN RTX is the fastest GPU on the market and we fully concur. Built to process the most intense applications like neural networking, impossibly large data sets, and rendering models, the NVIDIA TITAN RTX is primed to power you through. The NVIDIA TITAN RTX possesses 24GB of GDDR6 memory running at a boost speed of 1770 MHz. The TITAN RTX has a class leading 4608 CUDA cores to maximize process delivery times. The TITAN RTX also offers 576 Tensor Cores that are made for machine learning. Tenso Cores are more cost effective than CUDA Cores as their power consumption is lower without altering final output. To double your capacity, NVIDIA has made the NVLink™ Bridge that combines 2 TITAN RTX GPUs to create a single unit with over a 100 GB/s speed and a combined total memory capacity of 48 GB. The NVIDIA TITAN RTX is three times faster than the previous TITAN at projects like Language Translation, Image Recognition and Data Prep. The TITAN RTX will render up to 8K video at a 2.5x faster rate than previous generations at 45 FPS. AI, Data Science, and Creative Professionals will see great benefit from installing the industry leading NVIDIA TITAN RTX GPU.
For almost 10 years the Logitech MX series has been at the forefront at blending an ergonomic design with functional benefits in a stylish form factor. The Logitech MX 3 is the newest in the line that features their acclaimed Darkfield laser that provides tracking on almost all surfaces with a class leading 4000 DPI.
Adding to that is a new function that will impress even the most discerning mouse aficionado, a cross system compatibility feature. The MX Master 3 mouse can seamless switch between two computers by dragging the pointer to the edge of the screen. This Bluetooth system will even switch between Windows and OS X while allowing copy and paste function cross computer, cross OS.
One excellent feature of the Logitech MX Master 3 is its palm sized orientation which allows for greater extended use. If you enjoy a palm size device, we are sure you will find the MX 3 one of the most comfortable mice you have ever used. Powered by USB-C the Logitech MX Master 3 will charge to full in 3 hours and will last for up to 70 days on a single charge. Customization options are available for button clicks on a per app basis to assist in the control of options in programs like Photoshop, Premiere, Word, Powerpoint and Excel.
Vortex Pok3r RGB | Cherry MX Switch
Vortex Keyboards, founded in Taiwan in 2010, has come to set the standard for a multitude of keyboard layouts, most notably the 60% keyboard platform.  The Vortex Poker 3 is a 60% keyboard built on a solid aluminium CNC milled frame that in total weighs in at a hefty 76 grams. LED Backlit Cherry MX switches are a highlight this excellent device. If you are not familiar with Cherry MX switches, they enable a more responsive, better feeling key press experience that you will appreciate when working on it for long hours as it minimizes physical stress. The LED back lighting can be a choice of either a RGB version or an all white backlit LED version. The Poker 3 runs off of a micro USB cable and is compatible with Windows, Apple and Linux. For financial applications, we recommend using a secondary numeric keypad as it will be less travel for you. For the code writer or the literary stylist we guarantee the Vortex Poker 3 will be your new favorite keyboard instantly after first type. Our preferred build includes MX Brown but we encourage you to try a few options and the best way to do so is to order a tester of the top 9 MX switches: MX Switch Tester.
Best M.2 NVME SSD for 2019
Samsung 970 Pro NVME M.2 SSD
Samsung has become a market leader in SSD speed and durability. The NVME M.2 drive has also become a mainstay option among laptop and desktop motherboard manufacturers as its speed benefits are so great compared to a traditional platter drive or even a newer SSD. Given its small form factor of less than 3 inches in length the Samsung 970 Pro sure does create a lot of power. The 970 Pro sets the SSD current read speed record with 3500MB/s. The Samsung 970 M.2 2280 is offered in a 512GB and a 1TB version.  Write speeds of up to 2,700 MB/s are made with the 1TB version and write speeds to be expected are 2,300 MB/s with the 512GB version. That means that the Samsung 970 Pro is 3 times faster than the nearest Brand competitor.
No other NVME SSD on the market can match the speeds provided by the 970 Pro except the new Samsung 970 EVO Plus. For OS installation, we recommend the 970 Pro as it supports encryption has a longer expected life of use. Both the 970 Pro and the 970 EVO Plus are tested and ensured for 1.5 Million Hours Reliability but the 970 Pro offers a greater warranty at 5 Years or 600 TeraBytes Written versus the 970 EVO plus which is 5 Years or 150 TBW. With the 970 Pro you will be assured to know you have not only the fastest read speeds but also years of expected use.  If you have a new motherboard that allows for 2 or more M.2 NVME drives to be installed then the 970 EVO Plus is an excellent option as it allows for a greater storage capacity at up to 2TB.
Best Local Backup Hard Drive for 2019
LaCie 2big Dock & External RAID
Though released in 2017, the LaCie 2big Dock & External RAID hard drive system remains unparalleled in feature set and function. With storage capacity up to 28TB on Enterprise Class Seagate Ironwolf Hard Drives that are also hot-swappable. The LaCie 2big functions as as excellent RAID system to ensure your file availability at speeds of up to 490MB/s. The 2big Dock has an easy configuration wizard to setup your device with RAID 0 for performance or RAID 1 for redundancy. With up to 28TB in a desktop form factor, you will always have an easy, and if necessary portable, backup of your most necessary files. Where the LaCie 2big Dock shines is its input options acting as a full hub for all your devices including Dual Thunderbolt 3 ( USB-C) Ports, a front facing USB 3.1 Port, a USB 3.0 Hub and a front facing dock to read SD and CF Cards. The dual Thunderbolt 3 ports can daisy chain and the USB ports can charge devices. There's even a Display Port for monitor integration. Where LaCie goes above and beyond is its warranty that states should your office or studio suffer water damage or a natural disaster the 2big includes a Rescue Data Recovery service that lasts over the course of its 5 year warranty.
Best Portable External Hard Drive for 2019
LaCie Rugged SSD & SSD Pro
Travelling is stressful enough without you having to worry about whether your portable hard drive will survive the trip.  In 2005 LaCie began crafting its Rugged® external hard drive line that can now withstand up to a 9 foot drop. 9 FEET! What began as a feature on a full size platter hard drive to ensure data viability has now progressed into a small form factor NVME SSD based drive that will offer the modern transfer speeds you have come to rely on. The LaCie Rugged SSD can hold up to 2TB of data on our recommended choices the LaCie Rugged SSD and SSD Pro. The LaCie Rugged SSD and Rugged SSD Pro are both shock proof and water resistant which will be a big difference maker in harsh climates.  The NVMe SSD model offers speeds of 950MB/s through a USB 3.1 Gen 2 port. The 2TB LaCie Rugged SSD Pro has speeds up to 2800MB/s through a Thunderbolt 3 (USB-C) port. Both SSDs offer the excellent data loss warranty that LaCie ensures for 5 years.
Best Technology for your Office in 2019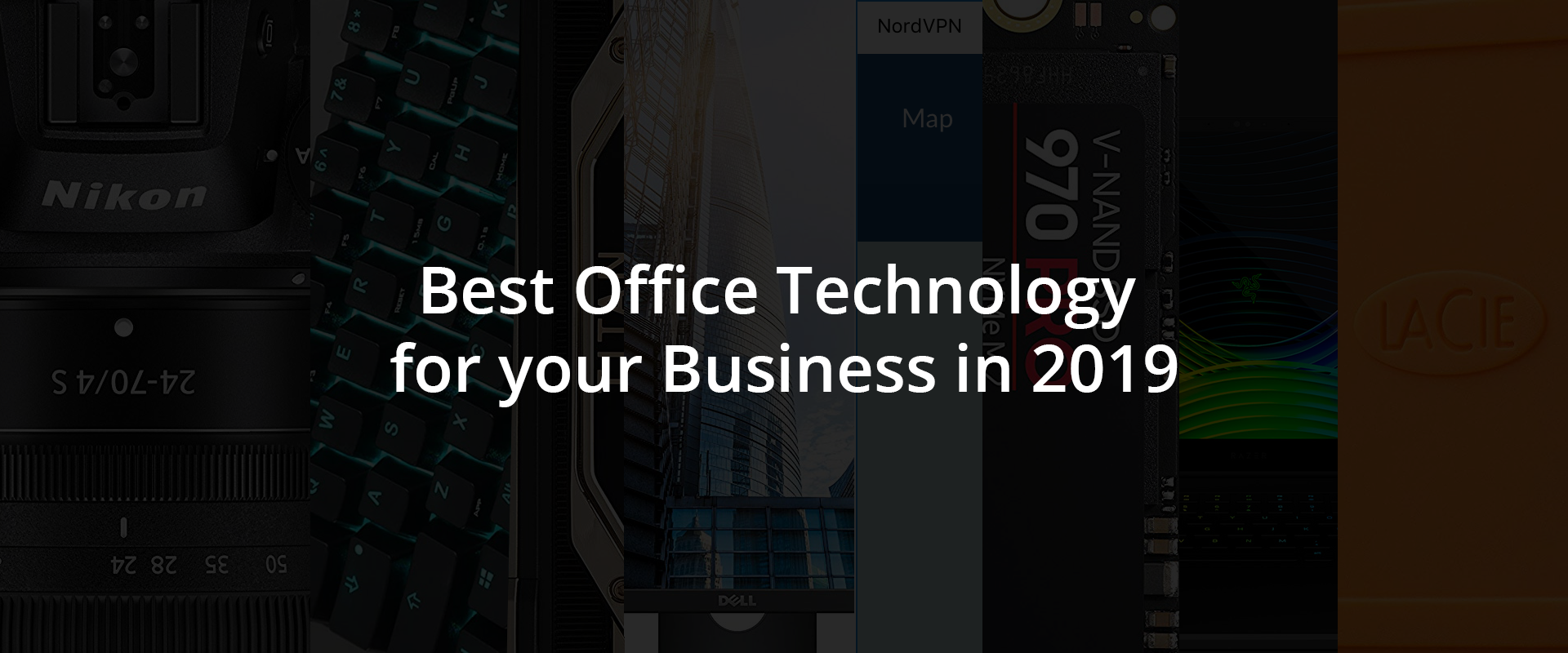 Posted by Praxis Technologies
On 10/14/2019