Top 5 Google Chrome Security Extensions
Praxis Technologies uses a multitude of web browsers, though we use Google Chrome foremost to monitor the habits of the largest search engine company, log its search result behavior to better understand how keywords react and to see how our client website submission results are listed. After learning through our own first hand research we feel obligated to share what makes up our best experience by blocking popups, blocking ads and preventing malicious script downloads.
How to Install Google Chrome and Chrome Extensions
You can click the Google Chrome logo to the left to download the Google Chrome Browser. Double Click the downloaded file to begin the installation. The install program will lead you through the prompts.
Once installed, we will be adding "Extensions" to Google Chrome Browser to add privacy, remove pop-up advertisements, and remove suspect tracking of your browser history and related information.
The Google Chrome Extension download repository is listed here should you wish to search for more options after reading the Praxis Technologies recommendations below. Visit the Chrome Webstore.
To reach your stored "Extensions" in Google Chrome, you can click the sandwich menu: 

  then, hover over "More Tools".  You will see the menu expand and then click on "Extensions".
What are the Best Security Extensions for Chrome.
#1 AdGuard AdBlocker – A thorough and up to date ad blocker continually making improvements
#2 uBlock Origin – Security to prevent intrusion / malicious scripts from attacking your computer.
#3 JustBlock Security – Protects your computer from malicious malware downloads and script intrusion.
#4 WOT – One of the best features are its real time alerts to password leaks and phishing hack attempts.
#5 Norton – Picks up malware injections, dangerous tracking cookies and malicious code.
We have found AdGuard AdBlocker to be one of the more consistent ad blockers to have installed. It picks up some of the advertisements that others do not and we have the ability to turn it on and off simply using a switch in the browser. Its a nice, clean add-on that actually works well.
Sometimes AdGuard AdBlocker even works too well and we have found it can interfere with bank websites propagating when turned on. To remedy this one good feature is that AdGuard offers website by website settings so that it will remember your preferences once you have visited a website.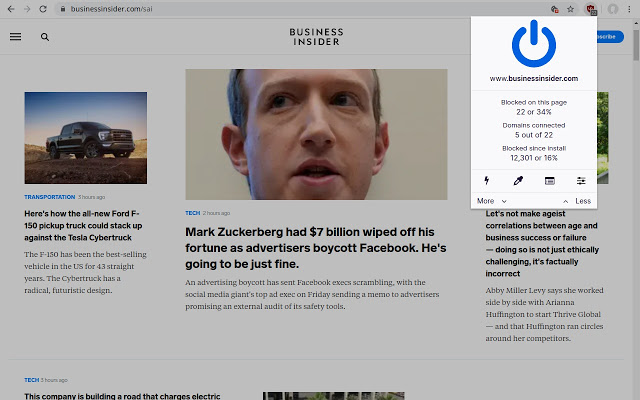 uBlock Origin is a bit of a different security extension in that it is a compilation of security firewalls sourced from multiple, verified real world threat level reports.
It is a strong defense against malicious content on the web as it can tell what is good content from bad content. uBlock will not display malicious content it picks up so you never have to interact with it.
uBlock Origin also features low resource scanning which is a nice feature as most security tools are resource drains.
Standard Options upon installation include:
uBlock Origin filter lists for custom solutions.
EasyList to remove ads
EasyPrivacy to block tracking
Peter Lowe's Ad server list to block ads and tracking
Online Malicious URL Blocklist
Settings can expand to include these security tools:
Fanboy's Enhanced Tracking List
Dan Pollock's hosts file
MVPS HOSTS
Spam404
JustBlock Security. It always helps to add a layer of security to your Browser. JustBlock Security sets up prevention intrusion and stops malicious malware downloads while visiting compromised websites. JustBlock Security is an excellent free Google Chrome Extension with options that will be very effective to protect your PC.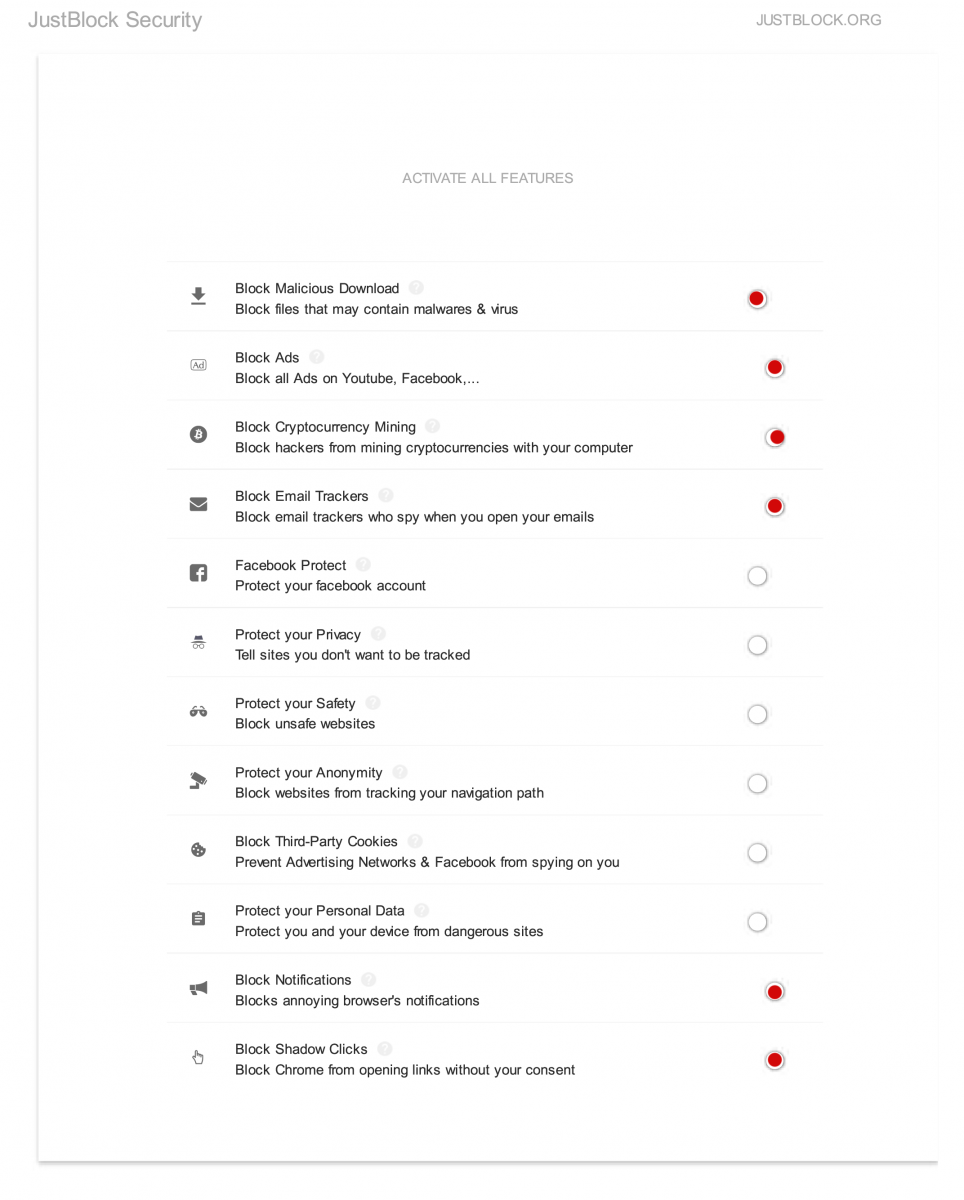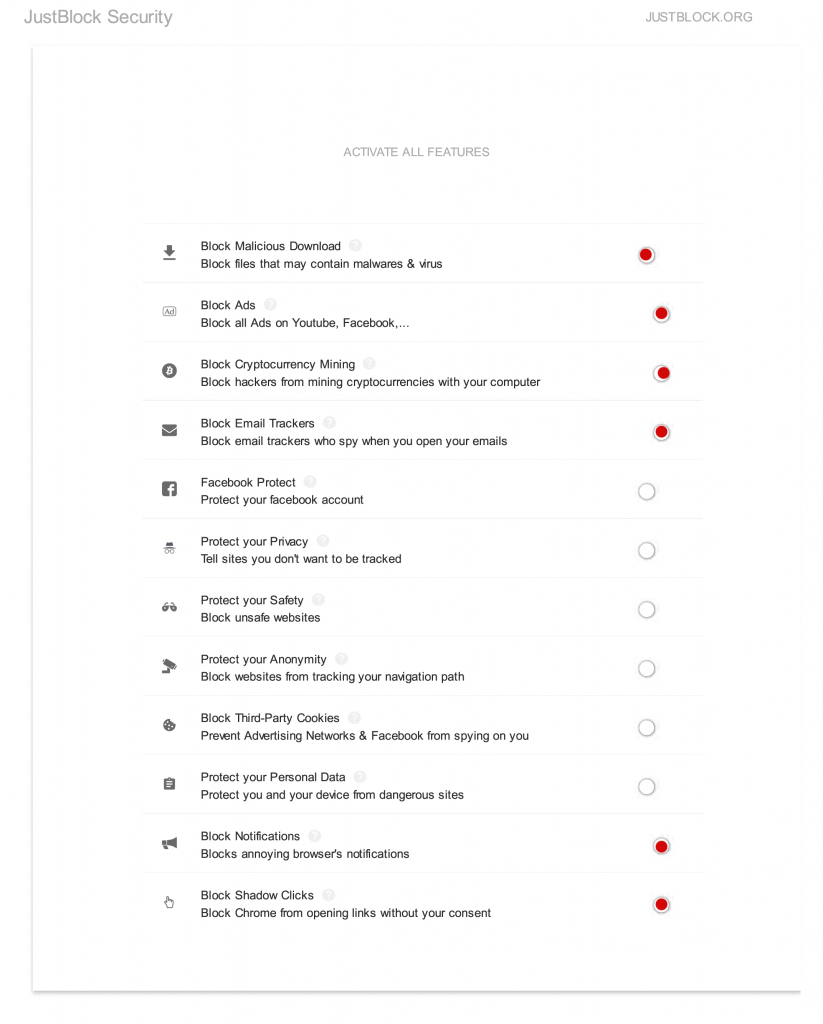 Once you have installed the JustBlock Security extension for Google Chrome, there are a few bells and whistles we must implement to give your computer the security edge it needs.
In the top bar of Google Chrome you should now see a red JustBlock Security shield icon.
Right Click the red JustBlock Security shield icon
Click "Options" from the popup menu
Now, we will select the options I checked in red on the illustration. The options to select are:
Block Malicious Download
Block Ads
Block Cryptocurrency Mining
Block Email Trackers
Block Notifications
Block Shadow Clicks
If you wish, it can only help to activate all features of JustBlock Security. It just may slow down your browser some. The options Praxis Technologies recommends cover areas that the above Chrome Extensions do not so there is less overlap of duplicate process.  The upside to JustBlock Security is that is offers an advanced firewall that will protect your PC from unwanted downloads and possible malicious injections as well as from the cryptocurrency mining that would compromise your security as well as overheat thus shortening its lifespan.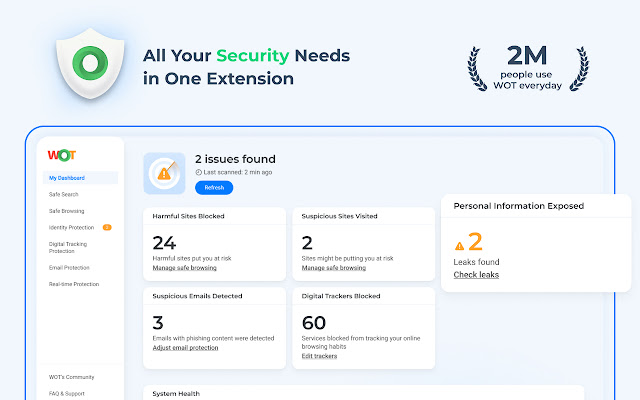 A real-time alerts security extension for Chrome that lives up to its name. We have used WOT extensively and the activates you can track and block are eye opening.
Get password leak alerts
Protect against Phishing attempts
Shows website scores and rankings
Shows real-time alerts when issues arise
Stay safe with WOT.
Praxis Technologies List of the Best Security Extensions for Chrome
Updated: December 11, 2022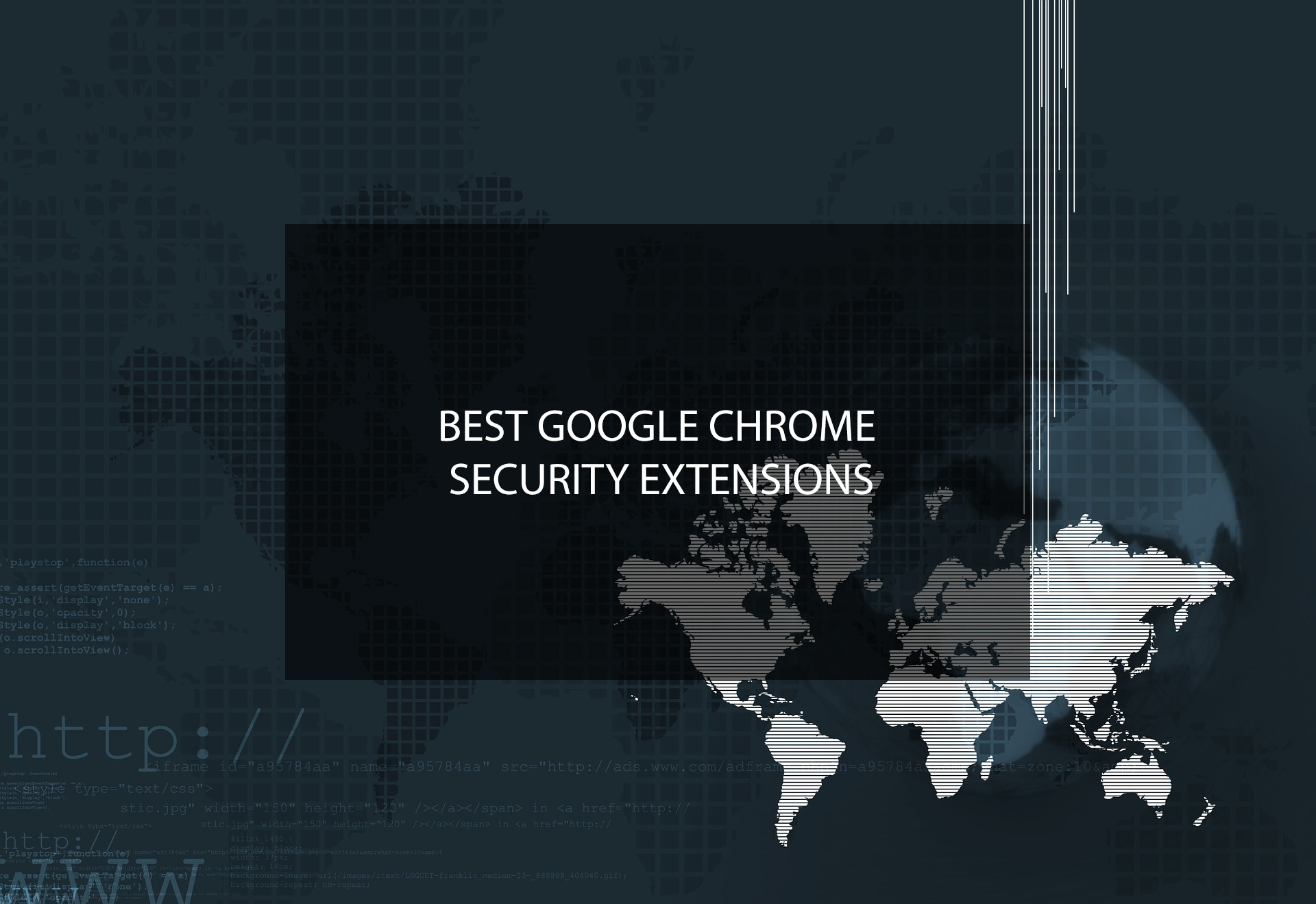 Posted by Praxis Technologies
On 12/10/2022