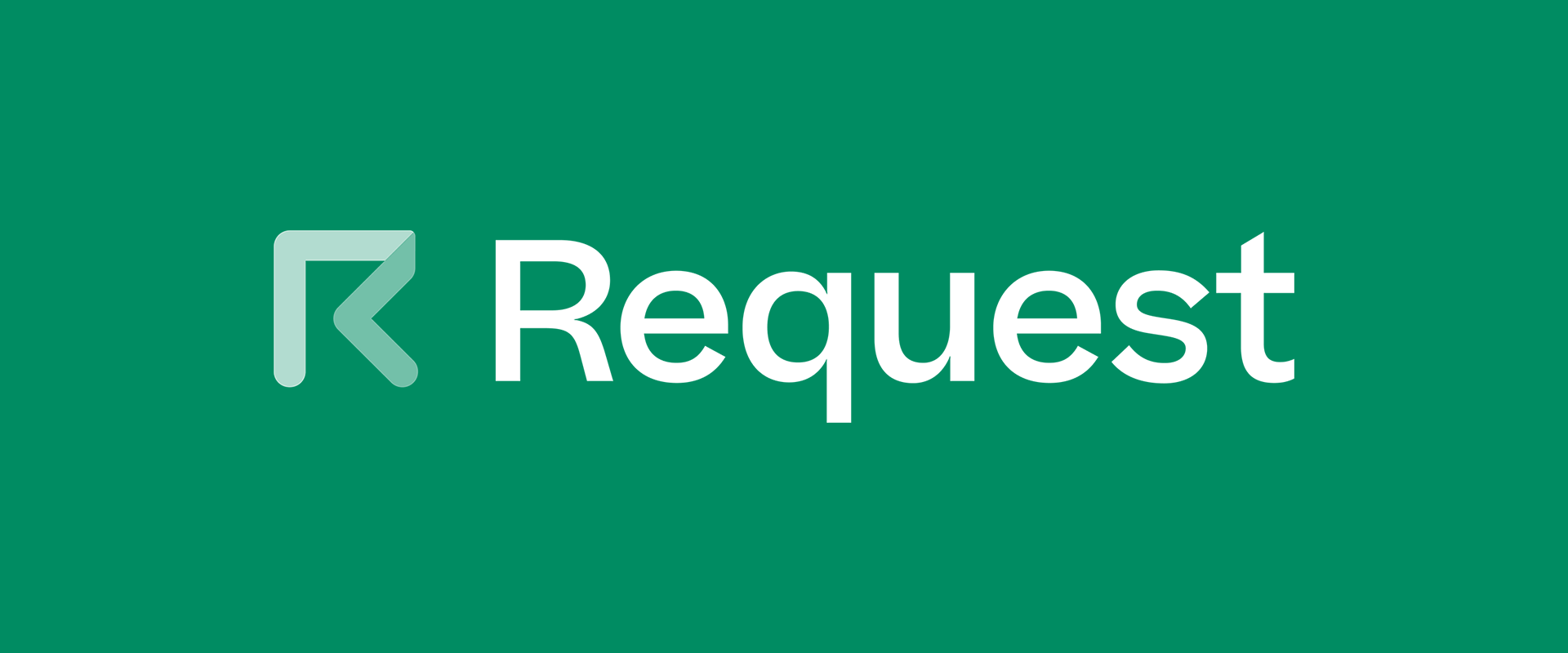 Praxis Technologies is proud to introduce Request Network as our new main payment platform.
Request Network invoicing features both cryptocurrency and FIAT payment solutions to ease your current clients into the platform while enabling the acceptance of cryptocurrency for current and new clients. We encourage those who prefer to be paid in cryptocurrency to join the Request Network to find out how easy it is to be paid in crypto and to leverage the growth potential of cryptocurrency for your business.
Request Network, launched in 2017, is a secure payment platform built upon their proprietary REQ Token which is an Ethereum based asset that ensures performance and stability through the strength of blockchain.
Request Network is a decentralized payment system meaning that no one singular company holds all of the data like a centralized provider would. Request also does not make public the records for the invoices which adds to the security of the solution to the benefit of payors and payees. This means that no transactions are public on the blockchain as compared to traditional transfers of Bitcoin and Ethereum, as well as other cryptocurrencies, with public ledgers.
Traditional invoicing software and online payment processors have fallen short both in the service they provide to their clients as well as the convenience and cost they offer those receiving payments. Long wait times for payment settlement, less than useable UX UI without premium features like reoccurring payments, as well as having large monthly fees for use along with unbearable percentages taken out per transaction.
When your business signs up for Request Network invoicing, you have the option of requesting payment through many different mediums including cryptocurrency, bank transfer, and now through Stripe which has been a recent addition which shows the Request Network is continuously trying to improve their product offering.
When a client pays a cryptocurrency invoice payments are sent directly to a wallet you preset. Stripe payments will be processed and sent directly to your bank account as it would through Stripe itself. This dual system offers your business the ability to be paid in the currency you prefer with invoice tracking that is easy to maintain and to audit along with the speed of settlement that you have long desired.
The Request Invoicing Process
Request Network | Invoicing Homepage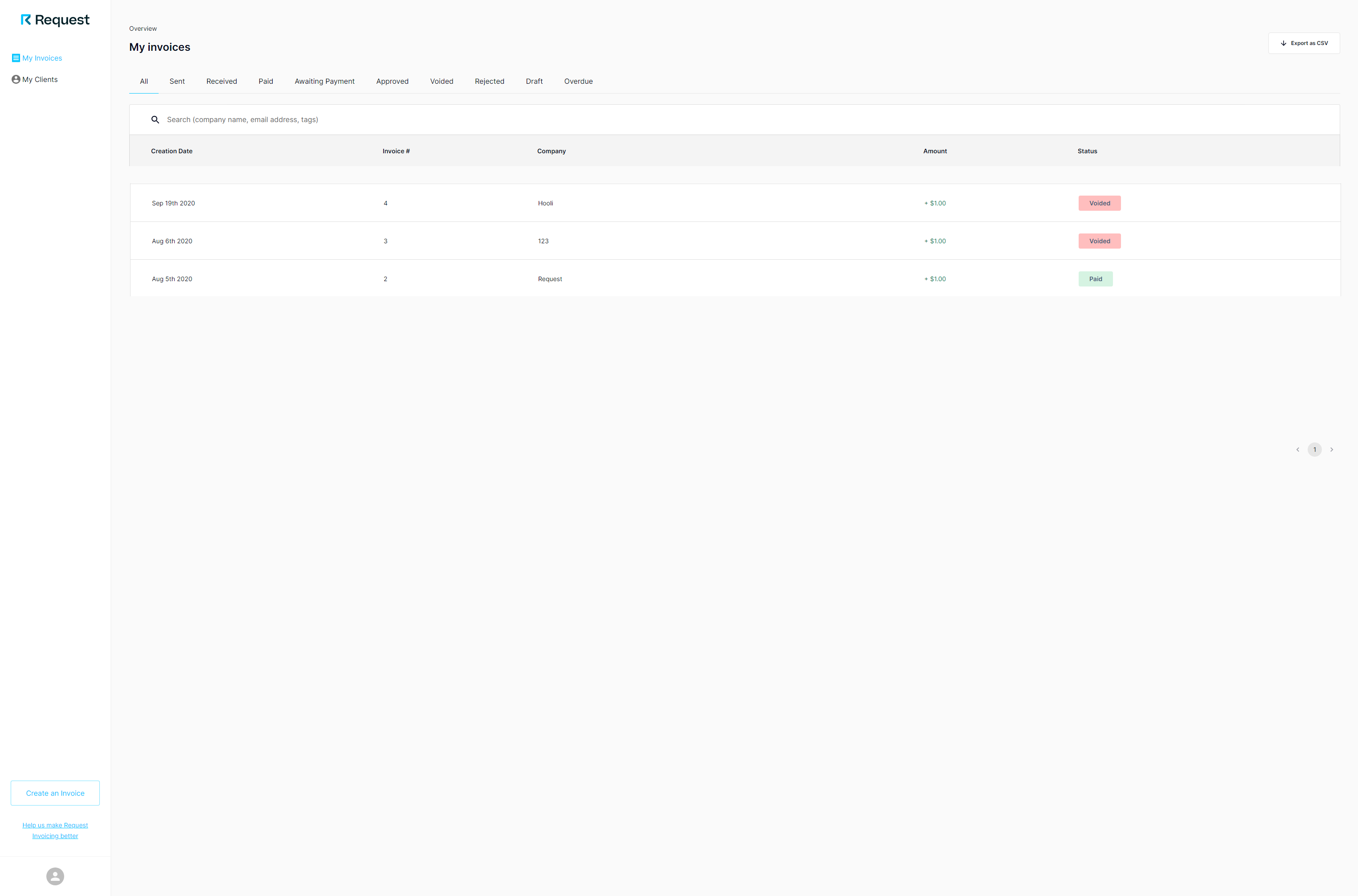 The Request Network homepage shows just how user friendly and streamlined the development team as made the UX UI. They have carefully crafted a very intuitive platform. Once you log in, you will see this invoice tracking page which has the ability to add clients, view all invoices sent, export all current invoices in csv, and to create a new invoice all of which make the learning curve for use quite easy.
Request Network | Invoice Creation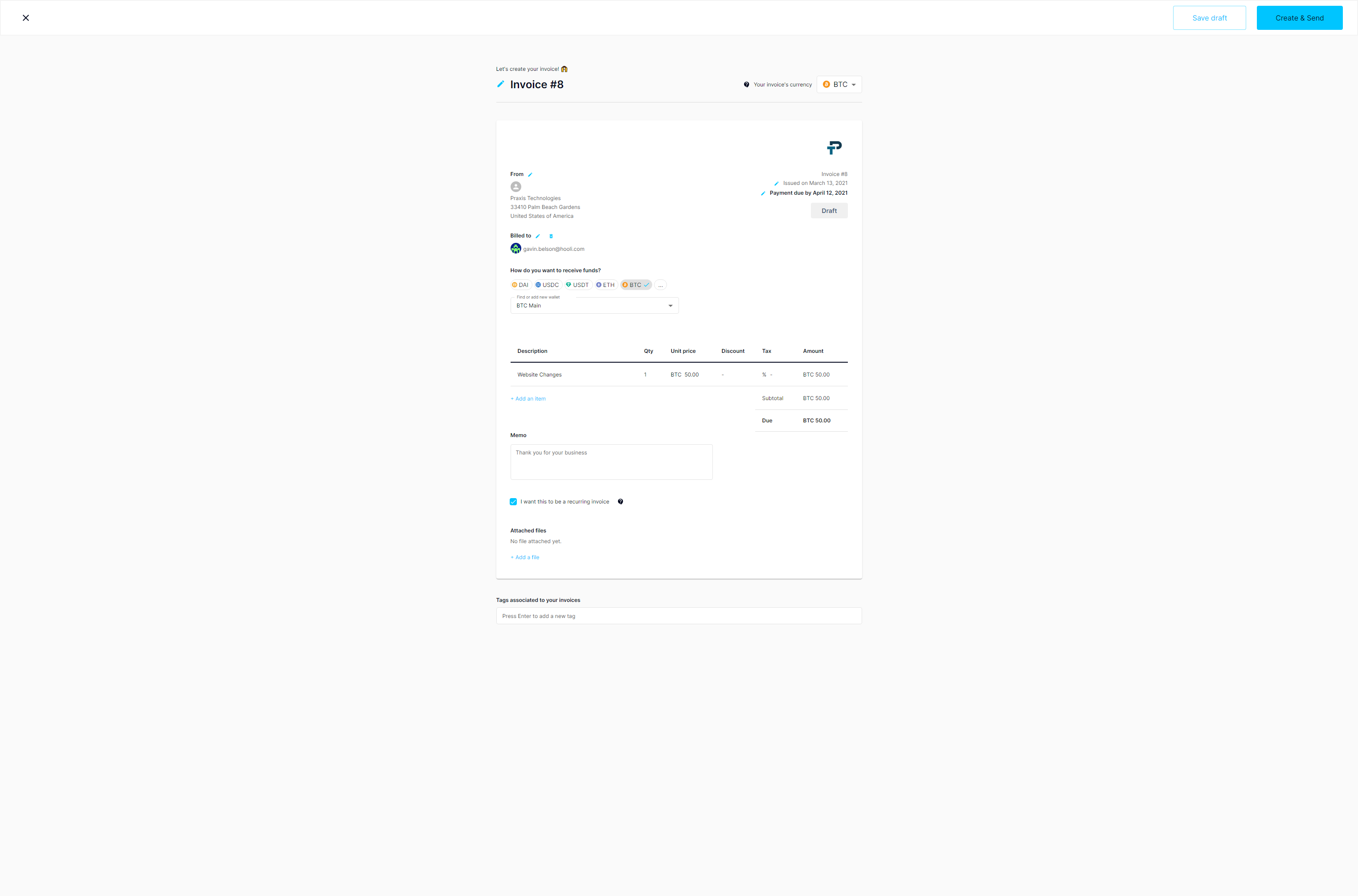 This screen shows the invoice creation page where one can select the cryptocurrency of choice in which to be paid or to choose FIAT currencies like USD, EUR and GBP to be paid through bank transfer or Stripe. A bank account and or Stripe account will be needed to conduct those respective transactions.
Request Network | Currency Selection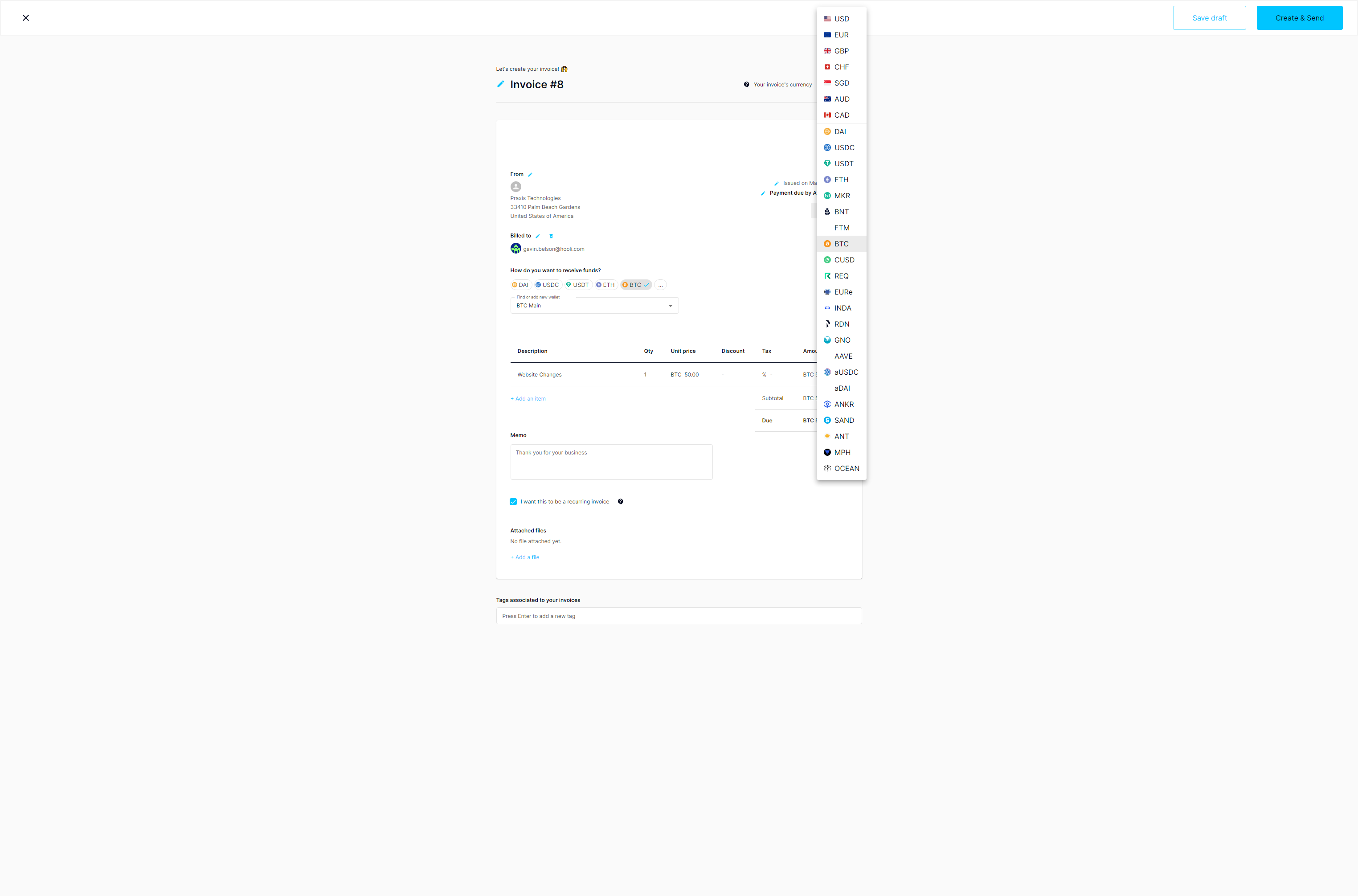 Currently Request Invoicing supports 22 cryptocurrency payment options including the most poplar like Bitcoin and Ethereum, along with stable coins like USDT, USDC, and DAI. Request has even added quickly growing currencies in the market like Maker, AAVE, Ocean, and Gnosis.
One of the premium features we love about Request Network is that they have enabled reoccurring transactions by default which you can see on the above screen as a check box to enable the feature per invoice sent. With traditional payment processors, reoccurring payments are not always available, or are so at an upcharge.  This is a big time saver to automate payments from clients for services on a basis you preset and a cost saver as well.
Another feature of Request Network invoicing is that the request for payment is sent to the client via an email with a link for them to make payment on the platform. There is no need to take time to setup a call to get the client credit card, nor is there a responsibility on you as the issuer to safely store the credit card information.
Request Network | Client Receives and Email to pay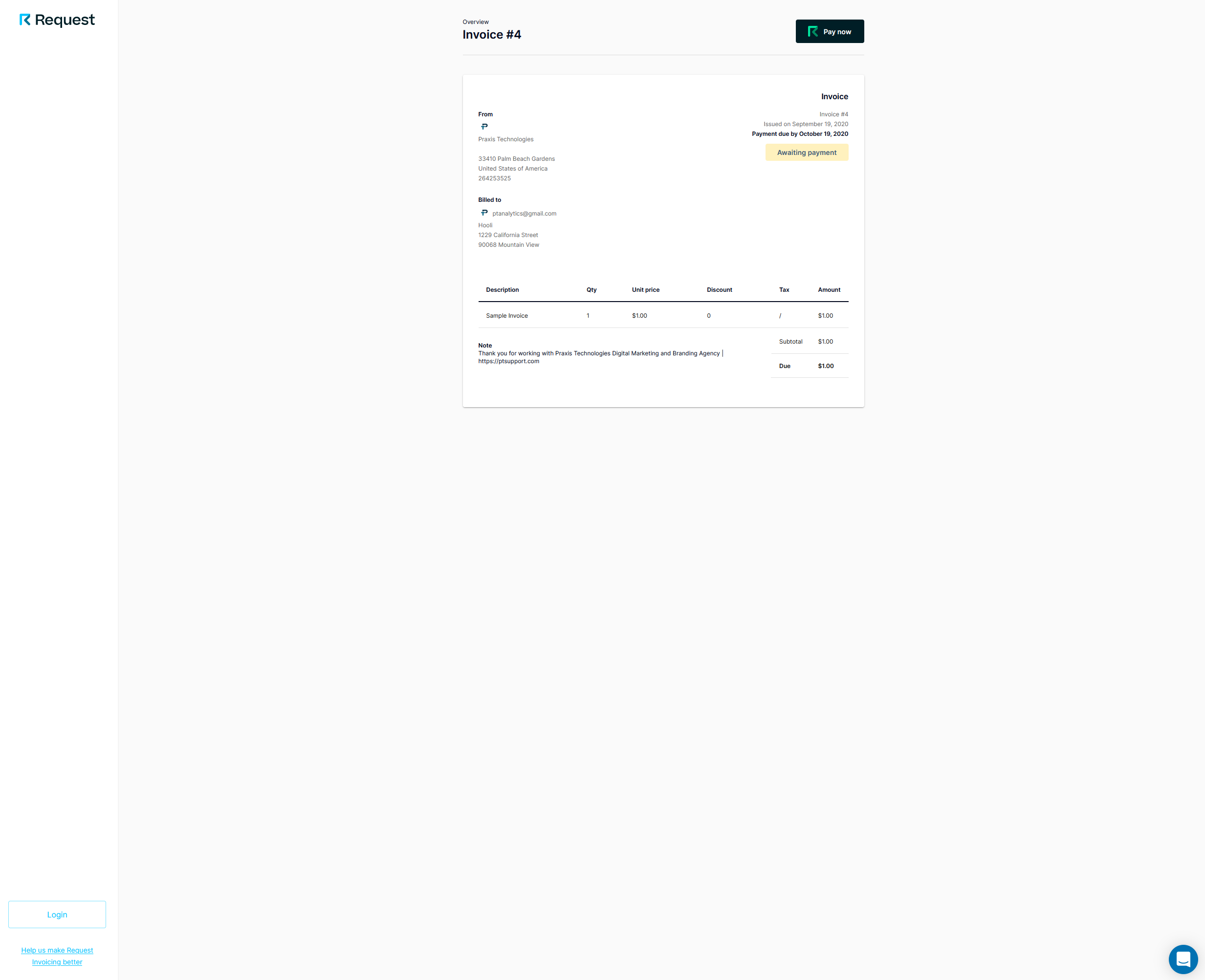 Posted by Praxis Technologies
On 03/13/2021